Experience the difference.
Breeders APP is a working, control and communication tool for horse farms, clubs and breeders. At the forefront of technology, uses a system based on internet (cloud), allowing all system users to access the information dynamically and accessing updated information from anywhere at any time and from any computing device
Technique Record by Product

GREAT VISUAL IMPACT

Get the full record of your horse with an excellent design and a single click.

Your information on the Cloud

CLOUD STORAGE

Your information is stored and protected on the network, being accessible from anywhere.

Wherever you are

OFFLINE APP

24x7 search availability with or without Internet access to their breeding horses data.
Different Versions
You can enter from anywhere and from any market device to the latest information and activities of the equine center, thus improving the efficiency and professionalism of it.
ONLine Version - All Devices

Fully web-based, it is not necessary to installed in any PC. On-line Version is accessible by all system users regardless of the device and the OS used.

Version OFFline allows to perform tasks field without internet connection. Downloadable for users with Apple devices.




Version OFFline allows to perform tasks field without internet connection. Downloadable for users with Android devices.

APLICACION OFFLINE.

Breeders APP ® OFFLine is available for our customers, available from android market and apple store. Allows work offline, then synchronize with the cloud.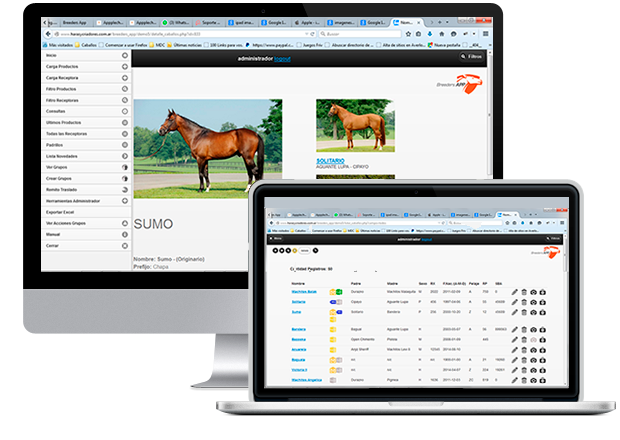 Main Features
Like any new technology, we use the concept of cloud (Internet network) and mobile access to create a simple and effective application for handling horse breeding.
MOBILITY: Available from the network 2G / 3G / LTE or Wi-Fi MOBILE.
EASY ACCESS: From PCs, Tablets / Smart-phones / PDAs / Mac-books.
LANGUAGES: Available in English and Spanish.
OFFLINE APP V3.0: Available for tablets and smartphones (IOS and Android).
Breeders APP ® - IRON VERSION is a new Modular version where you acquire the Core-Heart of the system and additionally contracts ONLY THE MODULES that you want according to YOUR NEEDS.
IT HAS NO LIMITS OF PRODUCTS AND RECEIVERS TO BE CHARGED IN THE SYSTEM!
These are the DEFAULT features of the IRON Version:
Full Breeding Inventory - PDF Reports (all) - Product Record in PDF - Quick Search - Pedigree and Offspring – Dam and Sire Offsprings - Graphic identification (with flags) of products ORIGIN of the breed / SOLD / DEAD - History of movements - Important common files repository - FILTERS (all) - Export of complete database - Management of Receivers and Embryos.
** OFFLINE APP V3.0 is also included for tablets and smartphones (IOS and Android).
See Fee and Details
Breeders APP ® developed a new APP (OFFLINE) for LOAD data which works without any network connection or without power supply. It is available for mobile devices (tablets and smartphones with Android and Apple IOS operating systems).
Downloadable from the Android Play Store or the Apple Stores.
Synchronize data in both directions, from the device to the server, where the Web application resides, and in the reverse direction.
Ideal to perform the loading of data from rural areas and remote areas of Internet access points.
** When the APP-OFFLINE version is contracted you also ACQUIRE THE WEB FULL VERSION. You can choose between different plans according to your needs. App-offline is free up to 10 product loads.
Main Features!
Our application provides a way to work completely different compared with other software availables on the market today. Breeders APP ® is a new concept in controlling horse breeding.